Learn the Benefits of RUBS And More - Think Utility Services
RUBS - Ratio Utility Billing System
What are RUBS?
RUBS stands for Ratio Utility Billing System, and is a cost-effective and fair alternative to submeters. RUBS is a popular utility management solution, and essentially divides a the bill among your residents based on certain criteria. Different utility types can often influence the type of RUBS formula a property uses.
What do RUBS Systems cover?
RUBS is a customized system for allocating utility costs to residents for most utilities, including:
Water and Sewer
Wastewater
Trash
Electric
Gas
RUBS Advantages
The biggest advantage of RUBs is that it allows a management company to exactly recapture their utility costs without the expense of installing meters. Conserving utilities benefits tenants as it lowers their monthly bill while owners see a decrease is overall operation expenses. Furthermore, implementing RUBS give tenants more incentive to report maintenance problems like leaking faucets or toilets. According to Think Utility Services, on average, tenants use anywhere between 5% to 15% less utilities when RUBS are announced and implemented. Also, The Environmental Protection Agency (EPA) and National Apartment Association (NAA) have both concluded RUBS encourage utility conservation.
With RUBS, a formula is used to distribute the costs of water and sewer fairly and equitably using a formula. The formula is typically based on occupancy, square footage or some combination thereof. To give a simplified demonstration, if a community has 50 occupants and the water bill for the entire community is $1,500.00 then the charge per occupant is $30.00. A single occupant home would receive a bill for $30.00. A two occupant home would receive a charge of $60.00. For water, the fairest ratio is using the number of occupants, but I usually recommend using a combination of unit square footage and occupancy. This tends to heighten the lowest charges, and reduce the charges for higher occupancy units, which reduces resident complaints.
Submetering will reduce overall property consumption by a higher percentage, it brings greater control, and is perceived as fair by the residents. However, where submeters cannot be installed, RUBS is perfectly legal, and grants a foolproof mechanism for recouping utility costs. It has also been shown to reduce property consumption by around 15% (submetering is 20-40%). Additionally, there are no installation costs.
Rent cannot always be increased. - Each market only has so much room for rental increases before they become uncompetitive. If they exceed the market threshold, they will be unable to rent in a particular market. In other words, renters will go to other communities where it is cheaper. If their utility costs exceed the threshold of what they can reasonably charge, they are forced to absorb the difference, and their bottom line is impacted. Instituting RUBs or submeters, allows them to remove that volatile item from the equation. They are, therefore, able to remain competitive in a given market by offering affordable rent. The RUBS program will create a mechanism for recapturing utility costs without affecting advertised rent.
Consumption and Cost Can Change – in a given year the consumption on the property can change drastically. Here is an example. What if 50% of the renters are two occupant families, 25% are 1 occupant, and the remainder 3 occupant families. In our test, each occupant uses 1,500 gallons per month. Here is the math.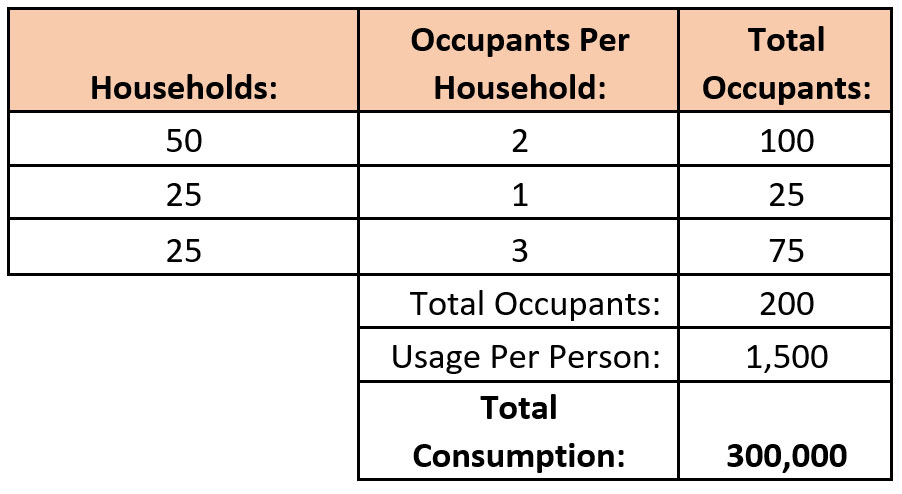 Now change the occupancy picture, and suddenly there is a ten percent increase in consumption.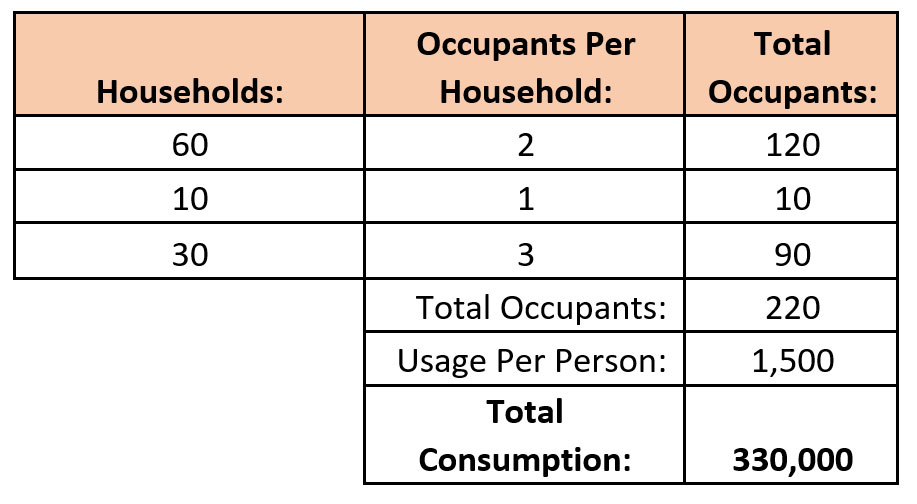 Add to that, the residents may simply begin consuming more. Finally, what if the utility raises the rate? The property does not have the ability to change rent because there are leases in place. They must wait until each lease renews before they can increase rent. That will transpire over the course of a year. While that is occurring, they are losing profit. Factoring utility costs into rent is a very risky proposition in a world where the utility picture can change rapidly and drastically.
A RUBS program allows property owners and managers to recoup utility expenditures without raising rent when meters cannot be installed. It may be impossible to install meters, or the community may not have the financial resources to do so. They can, however, remain competitive in the market and with certainty recoup utility costs by instituting a RUBS program.
Providing Submetering Services through
United States of America
Need to know more about our sub metering services in your state?
Contact us today for free consultation.